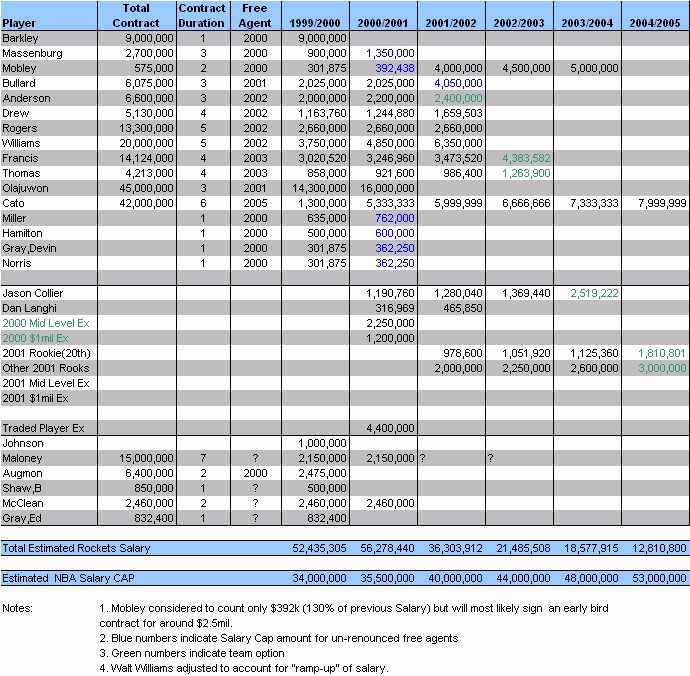 Notes
1. A lot of this information was gathered from Patricia Bender's NBA Page
2. Many of the contract values are estimates, approximations and averages(rookie contracts are assumed 120% of scale)
3. This Page is intended to generate feedback so I can improve the data. Email me here
4. Thanks to everyone from Clutchcity BBS that has contributed
Hakeem Olajuwon retirement FACTS
.
1. Hakeem is set to earn approximately $16 million dollars next year in the final year of his gauranteed contract.
2. If Hakeem retires, the team may or may not pay him the money, depending on the the UNDISCLOSED terms of the contract.
3. Regardless of whether the team pays Hakeem the money, IT WILL COUNT TOWARDS THE ROCKETS CAP.
4. The "Forced Medical Retirement", clause does not apply because it requires a 2 year waiting period before any cap relief is granted
5. A Contract Buyout is ONLY a possibility if it was included as an "Option Clause" in the original contract. Even if it was included all the money we pay Hakeem as part of the buyout would count against next years CAP anyway. I have never heard anyone refer to Hakeem's contract as having a TEAM or PLAYER option for the final year.
6. Larry Coon, the recognized internet expert on such matters, quoted the following from the NBA Collective Bargaining Agreement:-
"In no event shall team and player amend a contract for the purpose of terminating or shortening the term of the contract, except in accordance with the NBA waiver procedure or Article XII, Section 2." So it's not as easy as saying "here's some money, now take a hike," even if the player is willing."
(Article XII is for option clauses, covered in item 5. The NBA waiver procedure would simply involve us waiving Hakeem but still paying his salary in full)
He goes on to say:-
"This exact situation is what John Starks and the Bulls are going through. Starks wants to give up the remainder of his salary so he can leave the Bulls and join another team. The Bulls are willing to let him go. But there's nothing in the CBA that would allow him to do so, so Starks is stuck where he is."
7. Even if there is an"Option Clause" in the contract that allows us to "buyout the contract" consider this:
a) Next year salary cap is expected to be approximately $35.5 million.
b) If we negotiate to pay Hakeem just $5 million of the $16 million due him we will be AT THE SALARY CAP, and hence have no room to sign a free agent. If we agreed to pay Hakeem just a pitiful $2.5milllion, we would have $2.5million with which to sign a free agent, which is roughly equal to the "Mid Level Signing exception" we would have if we were still OVER THE CAP.

Links
Clutchcity.net
Save Our Rockets
The NBA Salary Cap & CBA FAQ.
---
Last Updated on 5/18/2000
By Davo
This Page has been accessed

times since February 15 2000